2012 REUNION
Place: philadelphia, pa.
Date:
DON'T MISS THE NEXT ONE.........
The Reunion Organization's main fund raiser is a "white elephant" auction.
Each attendee brings a item, wrapped so no one knows what it is, which is auctioned off to the highest bidder. It could be treasure or trash, there are some items members have been very generous with.
BE THINKING ABOUT WHAT YOU'RE GOING TO BRING.

Just click this address to get more information.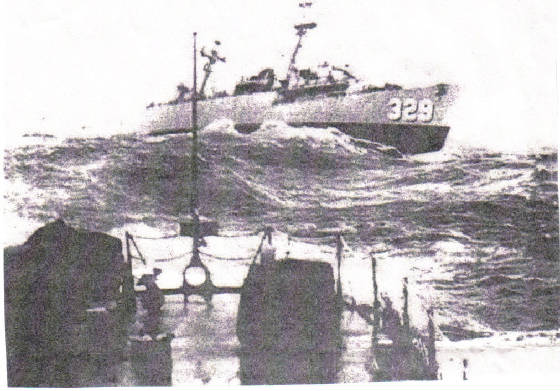 BOW UP
12 Nov 2004
Jim Strong describes the above photo:
"This 1958 photo was taken from the fantail of the U.S.S. Mills, which
Kretchmer relieved on pickett station one. We had tried a hi-line,
but that didn't work. When we returned to Newport, the Boston Globe
had this photo and a half page story, the Providence Journal also ran
a front page story. I have brought copies of these to reunions."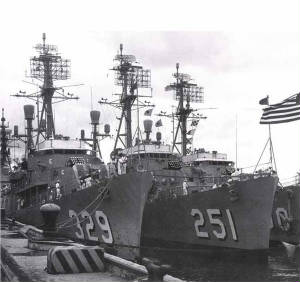 USS Kretchmer DER 329
USS Camp DER 251
USS Hissem DER400
In Feb 71 USS Camp was given to the South Viet Nam Navy,
and was renamed Tran Hung Dao HQ1.
Near the war's end it escaped with South Viet Nam forces to the
Phillipines, and renamed BRP Rajah Lakandula PS-4.
As of 1999, was being used as a stationary barracks ship at Subic Bay.